Stacking More Pulsechain (PLS) using Safe.Trade Exchange [VIDEO DEMO]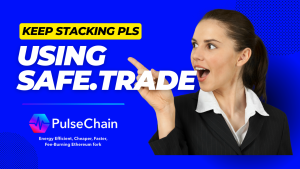 Swap USDT for Pulsechain using Safe.trade Cryptocurrency Exchange - The video below illustrates.
The video tutorial below demonstrates how to purchase USDT on Coinbase exchange and swap it for Pulsechain (PLS) token using Safe.trade exchange.  After swap we transfer the PLS token to our Metamask wallet for safekeeping.  Our goal here is to stack as much PLS & PLSX in our Metamask wallet as possible before the crypto bull run.  This is a great strategy in creating crypto wealth.